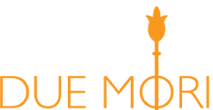 Hotel
Listed building or design hotel?
This is an enigma we have not been able to answer so we shall leave that decision with you.

Since the Venetian Republic in our region the name "Due Mori" has been synonymous with hospitality. Those who seek history will find 18th Century maps showing the building we now call Due Mori while pictures and black & white postcards providing a more recent view.
Due Mori's courtyard still has the stone wall used to secure travellers horses recalling those centuries when this was the only inn for miles. Large Liberty lilies still decorate the hotel façade while every window provides a snapshot of a medieval burg steeped in stories of times past.

Step into Due Mori and the medieval world retreats - inside everything is white, immaculate, minimal. No detail has been left to chance. Wood, stone, marble, glass and steel provide unexpected combinations, style is marked by a refined balance between the local tradition and elegant modern solutions.
And light - natural sunlight is used to enhance and give brilliance to every room; while at night strategically placed lighting creates a warm and welcoming atmosphere.

The regional government has classified Due Mori as a Listed Building while journalists describe us as Design Hotel: we consider ourselves both and yet neither of them at the same time!
We consider Due Mori to be the essence of a boutique hotel. The hotel is small permitting maximum attention to be paid to the smallest detail. As a craftsman would create a unique and perfect treasure we have worked to create the perfect small hotel.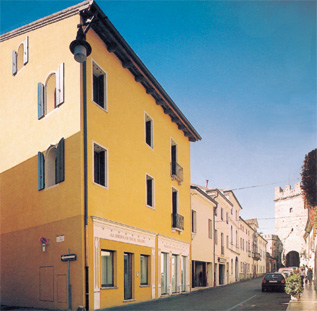 Albergo Due Mori - Corso Giuseppe Mazzini, 73/75 - 36063 Marostica - Vicenza - Italy - Tel. +39 0424 471777
Copyright ©2009-2010 Getual srl