Vicenza
Best known as "the city of Palladio" and recognised as such by the UNESCO World Heritage List, Vicenza is a treasure trove of historical artistic, and natural beauty. This happy trinity ensures that there is always something to see regardless of the season, or the number of your travelling party.
Andrea di Pietro della Gondola, better known as Palladio (1518 - 80) is without question the most eminent figure in Vicentino artistic history. The city is littered with his palaces and public buildings : from the Teatro Olimpico and the Palazzo Chiericati (now home of the civic museum) at one end of the main thouroughfare to the Basillica and the Loggia del Capitanio in the Piazza, which has always been the hub of city life, at the other.
Palladio is also responsible for the many stately homes sprinkled inside what were once the perimeters of the medieval city walls. To name but a few these include the huge and impressive Palazzo Thiene, the stupendous Palazzo Barbaran da Porto, Palazzo Valmarana and the unfinished Palazzo Porto Breganze in Piazza Castello.

A wander through the cobbled streets, and winding lanes in the heart of the city will take you past an admirable series of gothic palaces equally as impressive as their Palladian neighbours.
In addition to his own work, Palladio's great influence on the construction of the city can be seen in the designs of some of his most ardent admirers (Scamozzi, Bertotti Scamozzi, Muttoni). Something which will no doubt be of interest to those with a real passion for architecture.
Art buffs among you may, on the other hand, wish to begin your day with a visit to the gallery in Palazzo Chiericati, and continue from there to take in some of the many splendid Tiepolo frescoes in several of the villas near the city.
The Bellini and Veronese canvases in S.Corona, the Civran vestments in the cathedral and the breathtaking Oratories (which were frescoed against the backdrop of the Counter Reformation) should also definitely be added to your 'things to see' list.
A must for the faithful is the climb to the summit of Monte Berico from where you can enjoy a magnificent view of the city and the "Valley of Silence".

Those who enjoy the tranquillity of medieval cloisters will find just what they're looking for inside the walls of the 13th century Franciscan temple of San Lorenzo.
If an escape from the pressures of modern day life is what you're after take a step back in time with a trip to the Archaeological Museum of Saint Corona, or the Roman cryptoporticus near the cathedral.
Shopoholics will be pleased to discover Vicenza's ample supply of artisan shops (the city is especially well known for it's goldsmiths) and the big commercial shopping centre which is only a short drive, or bus ride from the centre.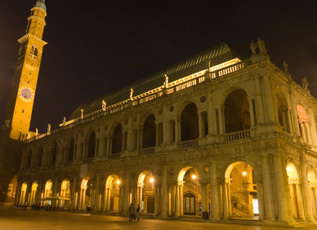 Albergo Due Mori - Corso Giuseppe Mazzini, 73/75 - 36063 Marostica - Vicenza - Italy - Tel. +39 0424 471777
Copyright ©2009-2010 Getual srl